"So you decided to not attend your matric ball, because you wanted to give car guards a gift bag? Are you normal?"

This question has been the common reaction of many people when I tell them I turned down the opportunity of attending my matric ball and decided to do something else with the money instead. 
As a young girl, one would think that going to your matric ball would be something many girls dream of at a very young age. I however, never saw myself going. I never saw myself making my parents spend so much money on a dress, shoes, make-up, refreshments, and decor for one night.
To me, it always seemed like a waste of money and I know many don't agree because their argument is "it's your special night" and that's okay. We're all entitled to our own opinions. As I grew older, more mature and as time moved closer to the night which has been anticipated by many. The more I realized how much I don't want to go. 
There has always been a big part inside of me desperate to make a difference somewhere in this world, no matter how small.
I started thinking of options and ideas I could do with the money that was supposed to be spent on my matric ball, and how I could use it in a way that someone else might benefit from it. I thought about making Christmas boxes for children in an orphanage. Prayed about it, asked God if it's the right thing believing that it was. Until one day, an idea popped into my head. "Why not make packages for car guards".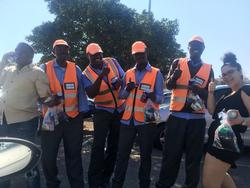 I fell in love with the idea, just thinking about how a small gesture could give them a little bit of happiness. Remind them that they are children of a living King and they are not overlooked nor are they less important than anyone else. I shared the idea with my parents and they supported me 100% . 
I wanted to get more people involved but when I thought about it, that would mean that people would want more information, and with that , comes the explanation of the idea which started with me. I decided against the idea of involving more people and kept it between my parents and myself. 
I didn't want recognition for the decision I've made. 
I simply wanted to do something selfless for those less fortunate than myself. This experience offered me humility in abundance. Brought me to the realization that there are many people out there who would be so grateful for something we consider to be small, little things that I would see as normal. Something small that I take for granted may be a huge blessing to someone in need. 
It made me happy knowing that I could've made their day a bit easier to handle. 
As a young person, I don't only want to go to church sit back and listen to what the pastor has to say. I want to take the love of Christ that fills me, and share it with people outside of the church in all its forms. My family and I decided that we will make it our personal project to distribute gift bags to car guards quarterly. The Lord blesses us daily, the right thing to do is share those blessings with people so that they might see Christ through the work we do. 
Simply going to church is not enough. I've made it my personal mission to not only share the Love of God in everything I do but also be the church. We need to realize that the way we live our lives might be the only bibles people get to read. Our actions have no power. 
But action filled with Christ's love and purpose has the power to save souls. Living a life of service offers a type of happiness that no materialistic possession could ever offer
.
On 7 October, Caitlin Peters and her family fed 30 car guards at Tygervalley Centre in the Northern Suburbs of Cape Town. The love packages consisted of toiletry items such as toothpaste, toothbrush, soap, hand sanitizer. They also included a pair of socks and snacks such as chips, sweets and juice as well as a copy of the Signs of the Times.